Production Introduction of Complete Drinking Water Filling Production Line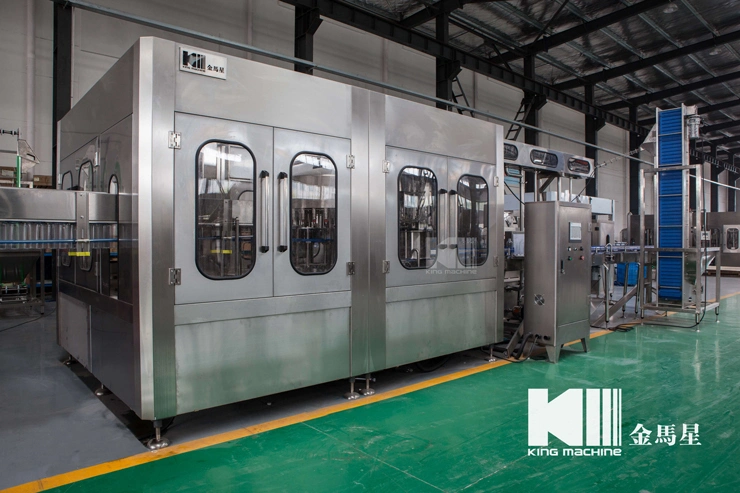 This CGF Wash-filling-capping 3-in-1unit: Beverage Machinery is used to produce polyester bottled mineral water, purified water, alcoholic beverage machinery and other non-gas beverage machinery. Beverage Machinery can finish all the process such as washing bottle, filling and sealing, it can reduce the materials and Outsiders touch time, improve the sanitary conditions, production capacity and economic efficiency.
The Complete Bottled Mineral Water / Pure Water Production Line used in the beverage filling operations. The three functions of bottlewash, fill and seal are composed in one body of the machine. The whole process is automatic.
Washing heads
The rotary disk is fully made of SUS304 stainless steel.
Using imported special efficient spray nozzle, the washing water will be sprayed in a particular angle, can wash any part of the inner wall, rinse with water thoroughly and save flush bottle.
Bottle clamp and lifting mechanism of sliding sleeve adopts Germany Igus corrosion resistant bearing without maintenance.
Washing part moves by a frame in the transmission system through the gear transmission.
Filling heads
The washing bottle, filling, sealing are connecting with the thumbwheel card bottleneck transportation methods.
The rotating disk is all made of SUS304 stainless.
Filling method is fravity filling.
Filling valve manufactured by SUS304.
The filling valve structure design is reasonable, the filling quantity is accurate.
Capping heads
The capping machine is the highest precision in 3-in-1 unit machine, on the reliability of equipment operation, has enormous influence on the defective rate of the product.Introduced the world's most advanced Italian AROL capping machine technology, combining with the filling machine production experience improvement, and ask college of Shanghai Jiao Tong university mechanical engineering institute of electrical and mechanical design and automation technology of experts and professors to help design.
Main Features
1. Using the wind sent access and move wheel in the bottle directly connected technology; canceled screw and conveyor chains, this enable the change the bottle-shaped become easier.
2. Bottles transmission adopt clip bottleneck technology, bottle-shaped transform not need to adjust the equipment level, only change related the curved plate, wheel and nylon parts is enough..
3. The specially designed stainless steel bottle washing machine clip is solid and durable, no touch with the screw location of bottle mouth to avoid secondary pollution.
4. High-speed large gravity flow valve filling valve, filling fast, filling accurate and no liquid lose.
5. Spiraling decline when output bottle, transform bottle shape no need to adjust the height of conveyor chains.
6. Host adopt advanced PLC automatic control technology, the key electrical components from famous company such as Japan's Mitsubishi, France Schneider, OMRON.
More models
Washing, filling, capping heads
14-12-4
18-18-6
24-24-8
32-32-8
Capacity based on 500ml
3000-4000 BPH
5000-7000 BPH
8000-12000 BPH
12000-15000 BPH
Applicable bottle
H=170-320, Φ=50-100, (330∼2000ml)
Pressure
0.25-0.3 MPA
General power
1.5+0.37 KW
2.2+0.37 KW
3+0.45+0.25 KW
4+0.45+0.25 KW
Overall dimension
2300×1680×2650
2500×1760×2650
3100×2100×2650
3800×2800×2650
Weight
2600 KG
3500 KG
4800 KG
6500 KG
Auxiliary machines
RO water treatment system
We adopt different equipment to produce pure water, mineral water etc. The main equipment of RO Water Treatment Plant are silica sand filter, active carbon filter, sodium ion exchanger, hollow fiber, RO( reverse osmosis), UV sterilizer, precision filter, ozone generator, water tank etc. It can effectively get rid of muddy organic matter, iron, manganese etc, reduce the hardness of the water to make all specifications of the water quality fully meet the state fresh water standard of fresh drink water.
Blow molding system
1. Excellent Mechanical Strength, impact-resisting, and non-craking.
2. Bottle mouth and thread are of precise measurement.
3. Plastic Medicine Bottle's safe thread can be molding directly.
4. The size and weight of the product can calculate and design clearly and meet the requirement of the design without any deviation.
5. The surface of the bottle mouth, neck and the body is good luster and smoothness, the standard of bottle body is unity.
6. The joint seam on the bottle body is smooth, no scrap rubber.
Automatic labeling machine
1. Shrink Labeling Machine For Sleeve adpots PLC programmable controller,imported servo motor,servo driver, frequency converter and transducer.
2. Shrink Labeling Machine For Sleeve adopts the positioning module to ensure the casting label precise,rapid and stable.
3. Our Shrink Labeling Machine For Sleeve not only has a highly precise position for casting label, but also withstand the perfect shape of the bottle after shrinkage.
PE film packaging machine
Automatic PE film heat shrink wrapping machine is suitable for wrapping of such products as pop top, mineral water , bottles. beer, drinks etc. Working with PE film shrink tunnel to pack the goods perfectly , the whole production process adopts the Germany advanced technics, and the main parts are imported from international famous companies. It consists of seven actuating motor, through cooperation with 7 actuating motor to form the product packed with plastic film and several bottles as a group out from the hot shrinking packing machine.
Flow chart:
Water treatment system
-RO system
(Hollow fiber filter)
Raw water→Raw water tank→Water pump→Silica sand filter→Active carbon filter→Sodium ion exchanger → Precision filter→ Reverse Osmosis
(hollow fiber filter)
→Ozone generator→Water tank → Pump
Filling and Packing
Cap conveyor machine
Bottle uploader→Air conveyor→ Filling Monoblock(3-In-1 machine) → Conveyor →Light checker→Blow dryer→ Labeling machine→Code sprayer→PE film packing machine
(or carton packing machine)
→Stock
PET bottle making:
PET granules→ Injection molding machine→ PET prefomrs→ PET bottle blow molding machine→ PET bottles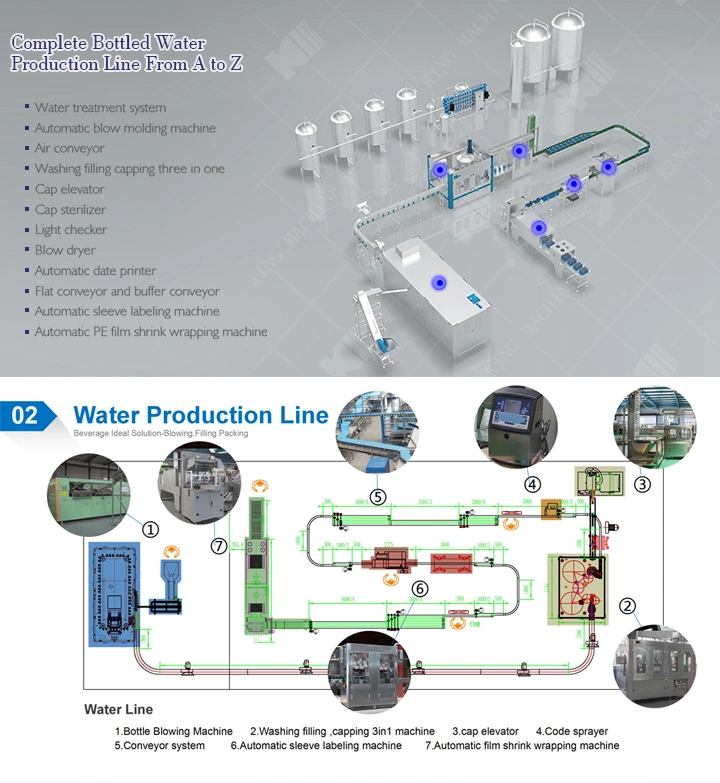 King Machine
<1> Standardized workshop of total 12,000 square meters.
Different types of processing units, such as water jet cutter, plasma cutter, laser cutter, CNC machine from Taiwan chevalier & korea daewoo, ensure the precision of parts.
<2>International certification, National Certificate of equipment verification, and more than 30 invention patents are done in King machine .
Verification Certificates of equipments: ISO9001:2001; CE Certificate , SGS , COC , TUV
National Certificate of equipment verification:standard organisation of Nigeria , CNCA certificate, Logo trademark registration, etc.
<3>The equipment will be tested and run for 24 hours before leaving the factory, to ensure the smooth working of water pipeline, and pneumatic, electrical and mechnical stability.
<4>Sufficient stock of spare parts ensures the timely delivery and supply of spare parts.
<5>The engineers are experienced. We can produce different products with different capacity and work out reasonable flow chart as per customers' requirements to save space.
<6>Professional installation team who can speak fluent English can help customers make benefits in a shortest time.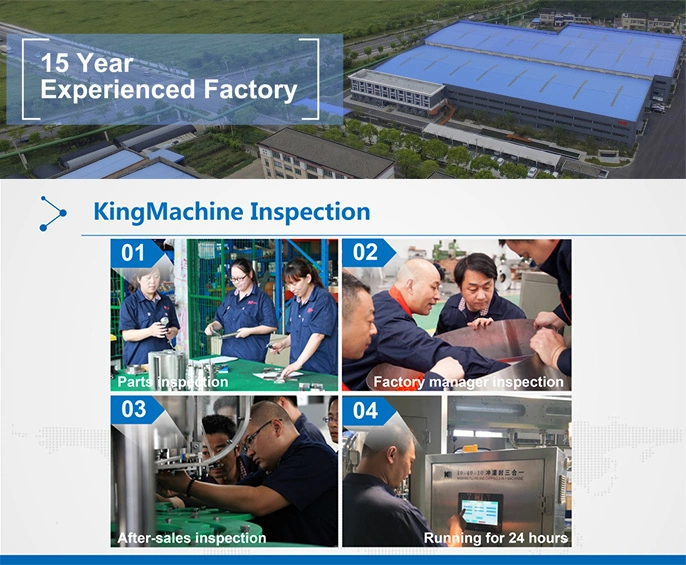 King Machine
1. Installation, debug
After equipment reached the workshop of customer, place the equipment according to plane layout we offered. We will arrange seasoned technician for equipment installation, debug and test production at the same time make the equipment reach the rated producing capacity of the line. The buyer need to supply the round tickets and accommodation of our engineer, and the salary.
2. Training
Our company offer technology training to customer. The content of training is structure and maintenance of equipment, control and operation of equipment. Seasoned technician will guide and establish training outline. After training, the technician of buyer could master the operation and maintenance, could adjust the process and treat different failures.
3. Quality guarantee
We promise that our goods are all new and not used. They're made of suitable material, adopt new design. The quality, specification and function all meet the demand of contract. We promise that the products of this line could storage for one year without adding any aseptic.
4. After sales
After checking, we offer 12 months as quality guarantee, free offer wearing parts and offer other parts at the lowest price. In quality guarantee, the technician of buyers should operate and maintain the equipment according to seller's demand, debug some failures. If you could not solve the problems, we will guide you by phone; if the problems are still can not solve, we will arrange technician to your factory solving the problems. The cost of technician arrangement you could see the cost treatment method of technician.
After quality guarantee, we offer technology support and after sales service. Offer wearing parts and other spare parts at favorable price; after quality guarantee, the technician of buyers should operate and maintain the equipment according to seller's demand, debug some failures. If you could not solve the problems, we will guide you by phone; if the problems are still can not solve, we will arrange technician to your factory solving the problems.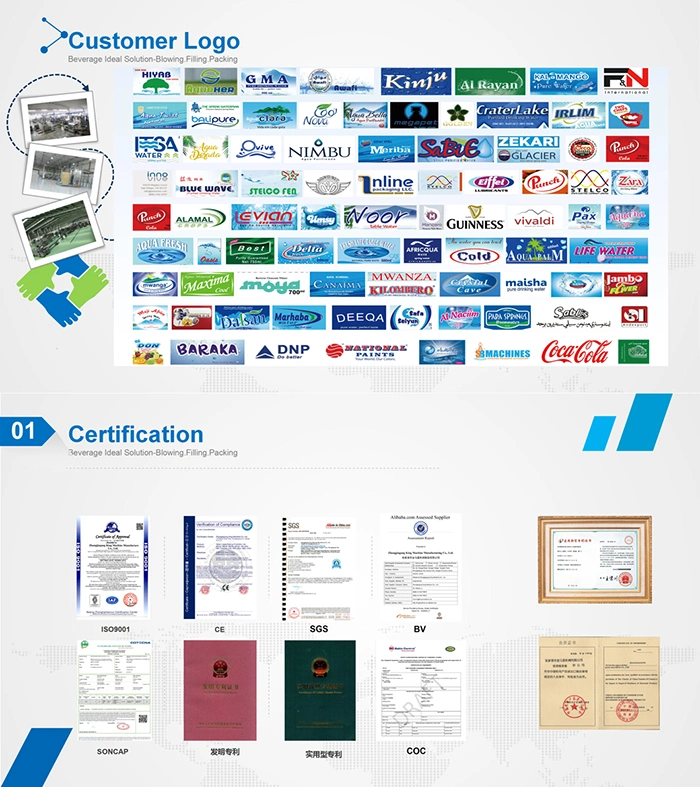 FAQ
Q1: Do you have reference project?
A1: We have reference project in most countries,If we get the permission of the customer who has brought the machines from us ,we can tell you their contact imformation,you can go to vist their factory.
And you are always welcome to come to visit our company,and see the machine running in our factory,we can pick you up from the station near our city.
Contact our sales people you can get video of our reference running machine
Q2: Do you have agent and after-service stations?
A2: So far we have agent in Yemen,Nigeria,Dubai,India,Kenya,Dubai welcome to join us!
Q3: Do you provide customized service
A3: We can design the machines according your requirements(materil ,power,filling type,the kinds of the bottles,and so on),at the same time we will give you our professional suggestion,as you know,we have been in this industry for many years.
Q4: What's your guarantee or the warranty of the quality if we buy your machines?
A4: We offer you high quality machines with 1 year guarantee and supply life-long technical support.
Q5: How long time for installation?
A5: According your machines order,we will send one or two engineers to your plant,it will take about 10 days to 25 days.
Kevin