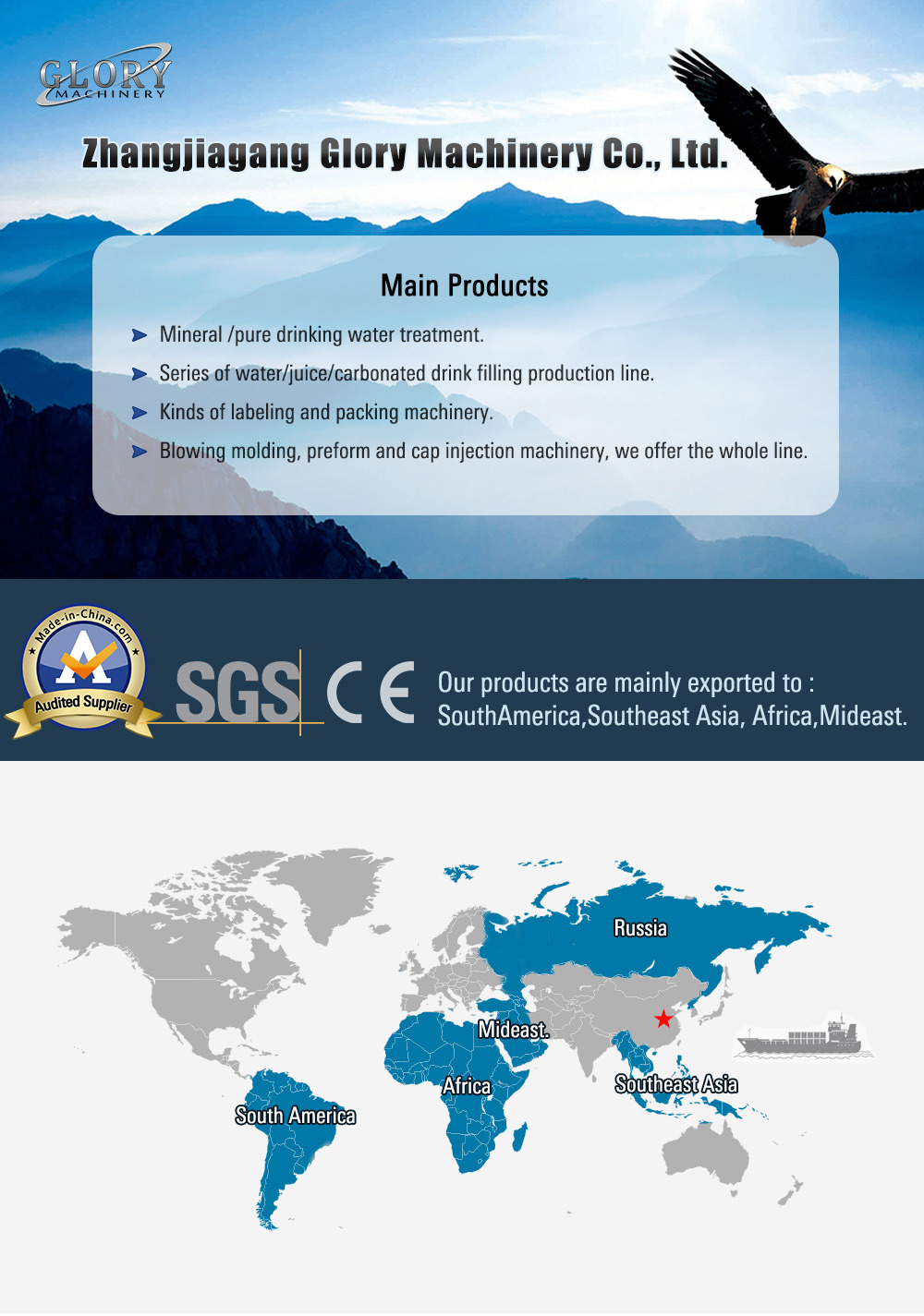 Descriptions :Automatic 5 Gallon Bottle Pure Water Filling Machine/filling production line
Functions :
With many proprietary technologies originating from our company , the 5 gallon water filling complete system , a core product of our company ,ranks the top of the world ,we are the real leader and long term supplier of 5 gallon water bottling line in China .
Main equipment items of the barrel water filling production line /PLANT:
The whole line is composed by the following
Automatic two heads de-capping machine
Automatic rotate barrel outside brushing machine
Automatic barrel loading system
Automatic barrel washing machine
Automatic rotate filling and capping machine 2-in-1
Automatic cap washing and loading system
Sleeve label machine with shrinking tunnel
Automatic barrel palletizer machine
Conveyor system
VIDEO LINK: https://glorymachinery.en.made-in-china.com7
Take note:the detail machines according to the user's requirements .
Filling tec
h
nical description for filling line:
filling technic
a
s and structure is designed and innovated by ourselves. It adopts
large fluent filling and fix quantify filling . filling valve is SUS fine casting process,
it has air
proof ring to avoid attrition of the metal .it is control by cylinder , and it is
stabilization . in the filling process, barrel after washing transport to covey barrel screw.
The covey barrel screw apart the barrel equality to star-wheel. The star-wheel lead the
barrel to filling system. When the filling cylinder meet journey switch, cylinder moves
down to open filling valve. Filling valve start to fill. After filling , cylinder meet with journey
switch again and move up. Filling valve close. The barrel after filling export by star-wheel.
And transport to capping machine by chains. Filling parts has
12
filling valves to satisfy the speed of the machine at the same time , liquid position is nicety because of controlling by journey switch.
Main configuration for the whole water production line :
The whole line is controlled by SS electrical carbinate with touch screen ,PLC and transducer
brand is Japan Mitsubishi .water pump adopts the most famous brand in China named
NANFANG ,Motor reducer adopts the joint venture brand .penumatic system adopts AIRTAC.
Take note :the line configuration can be addigned by the customer's requirements .
Main parameters of the whole 5 gallon water filling production line :
| | |
| --- | --- |
| Name | Function description |
| De-capper | Automatic discharge cap fro recycled bottle |
| Out washer | Wash and clean bottle's surface body ,neck and bottom |
| Inner washer | Rinse and sterilize bottle inside by hot lye liquid , recycled water , sterilizer ,pure water |
| Filler | Filling water into bottles |
| Capper | Sealing bottles by caps |
| Cap feeder | Send cap |
| Cap washer | Wash/sterilizer cap |
| Shrinker | Shrink label film at bottle neck |
| Bottle lifter | Bottle is held by double belts and it keeps suspending state waiting for bing covered with bag manually |
| Palletizer | Use machine to reduce labor force and use automatic control to reduce manual control |

main models:
Name

Model

Capacity BPH

De-capper

BG-1

100-600

BG-2

900-1200

BG-3

1200-2000

Out washer

ST-300
100-300BPH

ST-600

400-600

ST-1200

900-2000

Washer filler capper 3-in-1

QGF-120

120

QGF-150

150

QGF-150L
150BPH for big mouth bottle

QGF-300

300

CQGF-300

300

QGF-450

450

QGF-600

600

QGF-900

900

QGF-1200
1200BPH Linear
Rotary filling
QGF-1200R
1200bph rotary type
film bagging machine
BM-150
900-1200BPH

Palletizer

MDJ-1200

1200


CE certification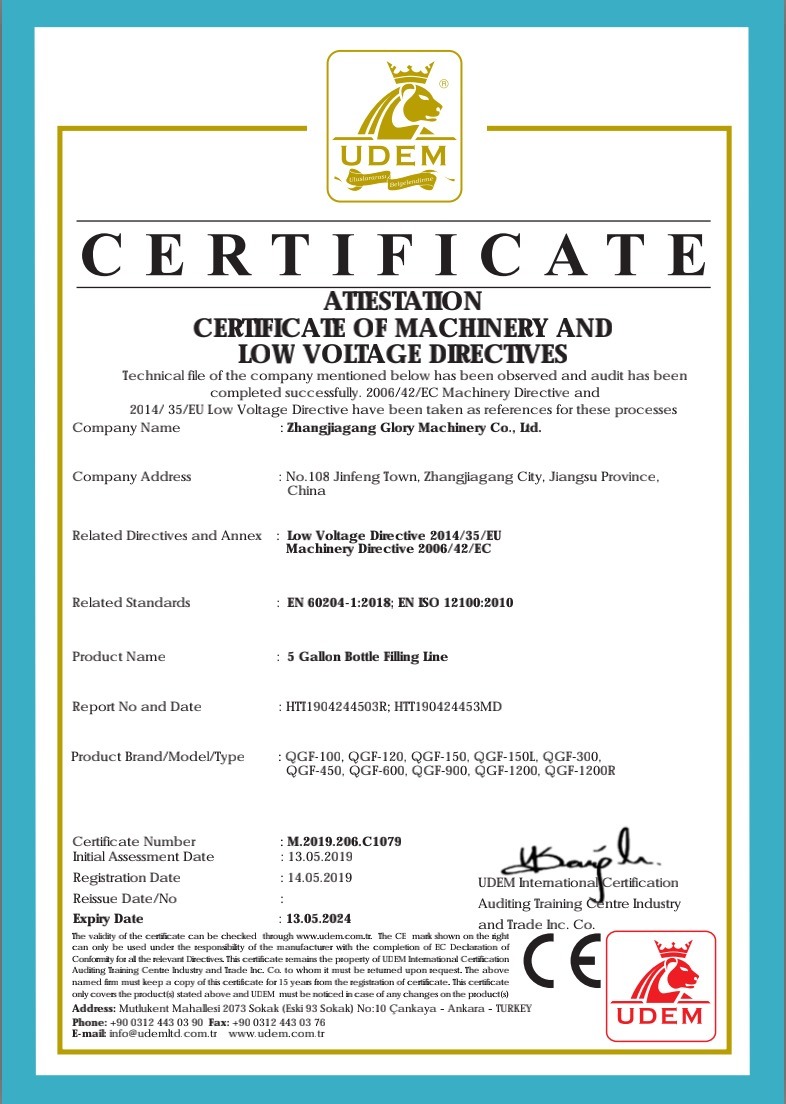 our machine in the world places:
vietnam. Russia,india ,Saudi Arabia ,Colombia ,Canada ,Paraguay,Lithuania,Belarus......