The production line of machine with 2moulds ( Semi-automatic&Fully automatic)
Semi-automatic production line,
Water treatment → EDI,ultraviolet(alternative)→ water tank → Ozone generator,pump(alternative) → homogenizer emulsifier → material tank → semi-automatic filling machine → semi-automatic capping machine → semi-automatic labeling machine → ink printer → conveyor(alternative)
Fully automatic production line,
Water treatment → EDI,ultraviolet(alternative) → water tank → Ozone generator,pump(alternative) → homogenizer emulsifier → material tank → automatic filling and capping machine → automatic labeling machine → ink printer

Screw capping machine manual capping machine cap sewing machine
Product Overview
Automatic capping machine
Automatic screw cap machine with automatic caps feeding is the latest improvement of a new type of capping machine. Aircraft elegant appearance, smart,capping speed, high pass rate, applied to food, pharmaceutical, cosmetic, pesticides, cosmetics and other industries of different-shaped screw-cap bottle.
Four speed motors are used for cover, bottle clip, transmit, capping, machine high degree of automation, stability, easy to adjust, or replace the bottle cap when not spare parts, just make adjustments to complete.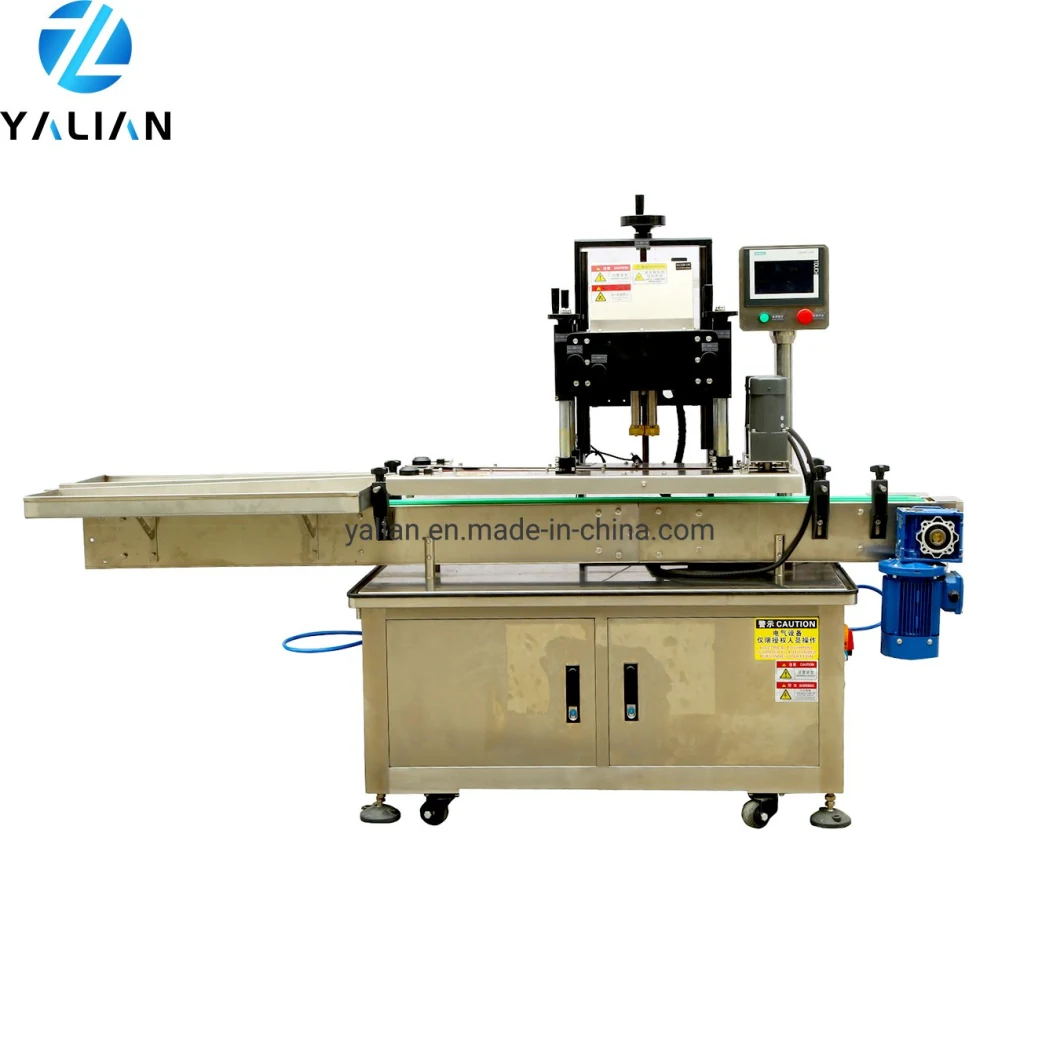 Working principle and characteristics:
This capping machine features electrical control movement and strong stability. With positioning devices, the standard capping is easy to operate, and it is suitable for caps of different shapes and sizes; It resolves the problems on nozzle, pump head, spray pumps, spray gun, etc. Lock lid with adjustable speed can be adjusted according to different tightness.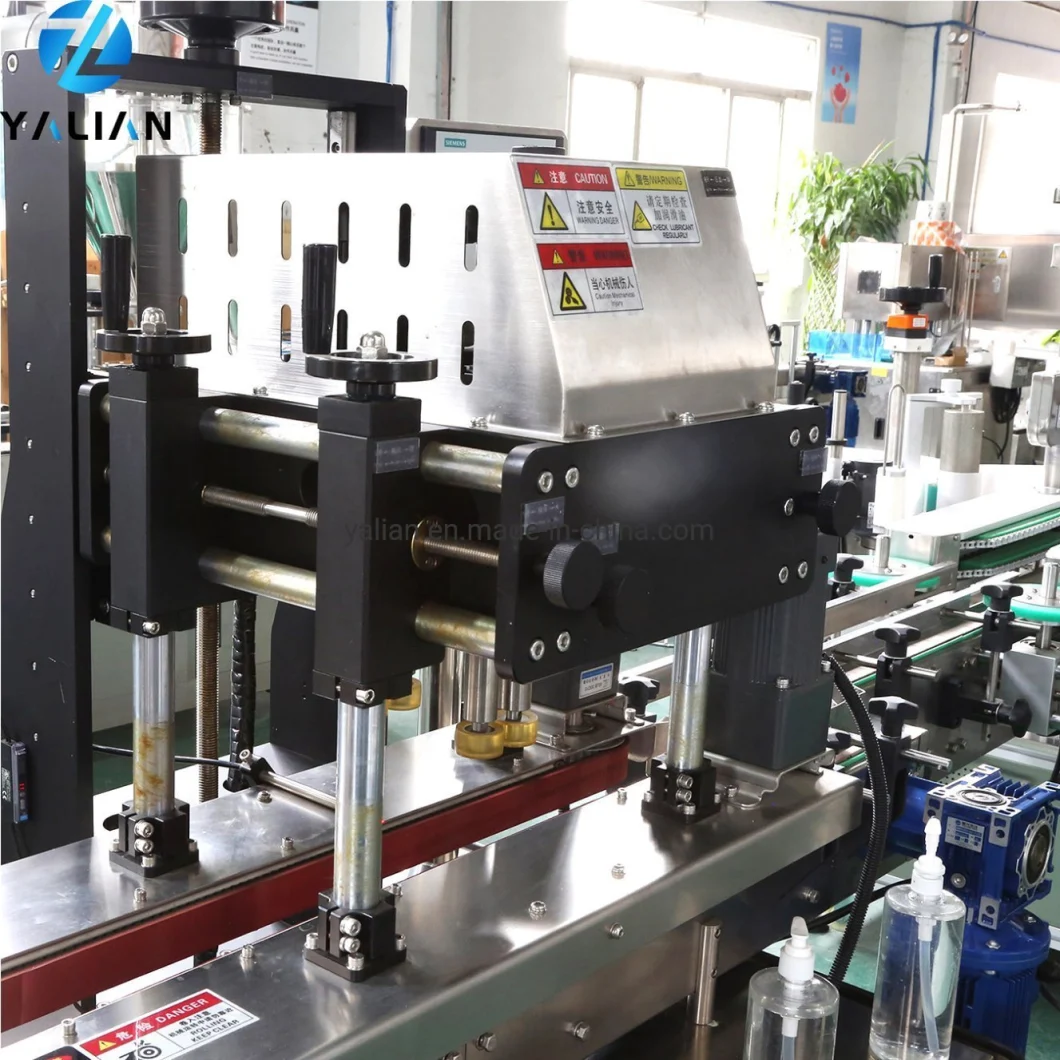 FEATURES AT A GLANCE
1. Into the bottle, positioning, operator action, using air cylinder sports.
2. Attached locating safety device to prevent the dumping of the bottle.
3. Replacement bottle size, we only need to adjust the height, simple operation.
4. This model for the plastic cover, aluminum cover and spiral seal designed to be adjusted to follow the cap material capping tightness.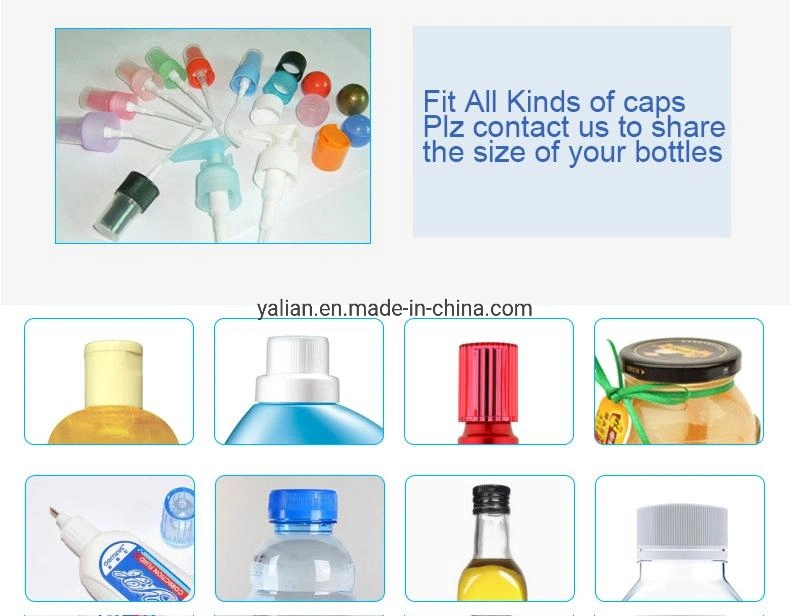 PRODUCT SPECIFICATIONS
| | | |
| --- | --- | --- |
| No. | Item | Description |
| 1 | Applicable bottle specifications | Diameter 40 ~ 115 mm; Height 800-320mm (customized) |
| 2 | Applicable cap Diameter | 20-180mm (customized) |
| 3 | Production capacity | 50 ~ 60 b/min (also adjustable) |
| 4 | Screw cap rate | ≥99% |
| 5 | Electric power | 2 KW |
| 6 | Material | SS304&316L |
| 7 | Dimension | 3000*700*1600 mm |
| 8 | Conveyor | 1500L*140W (mm) |
| 9 | Net weight | 250kg |
| 10 | Bottle application | Round bottle, flat bottle, square bottle |
| 11 | Cap application | Screw cap, pump head etc |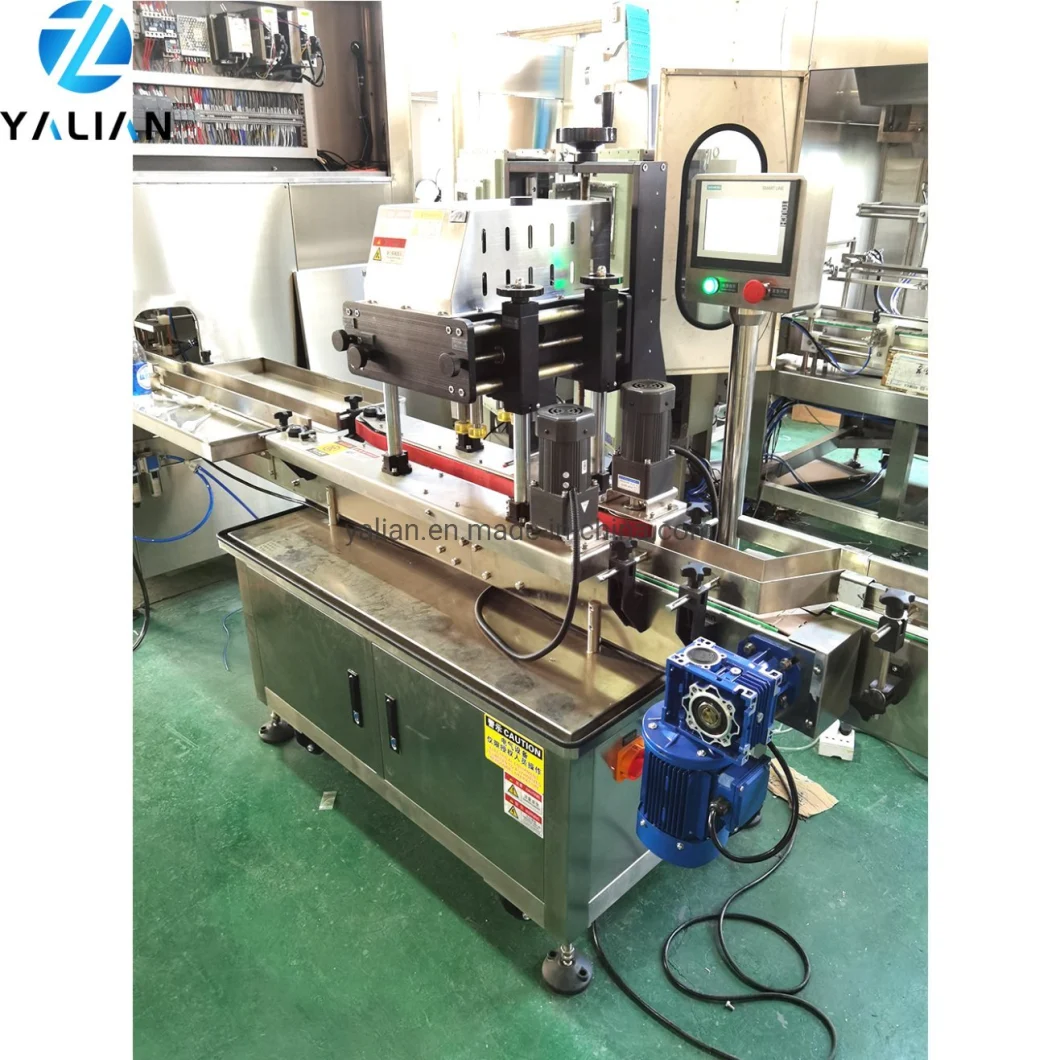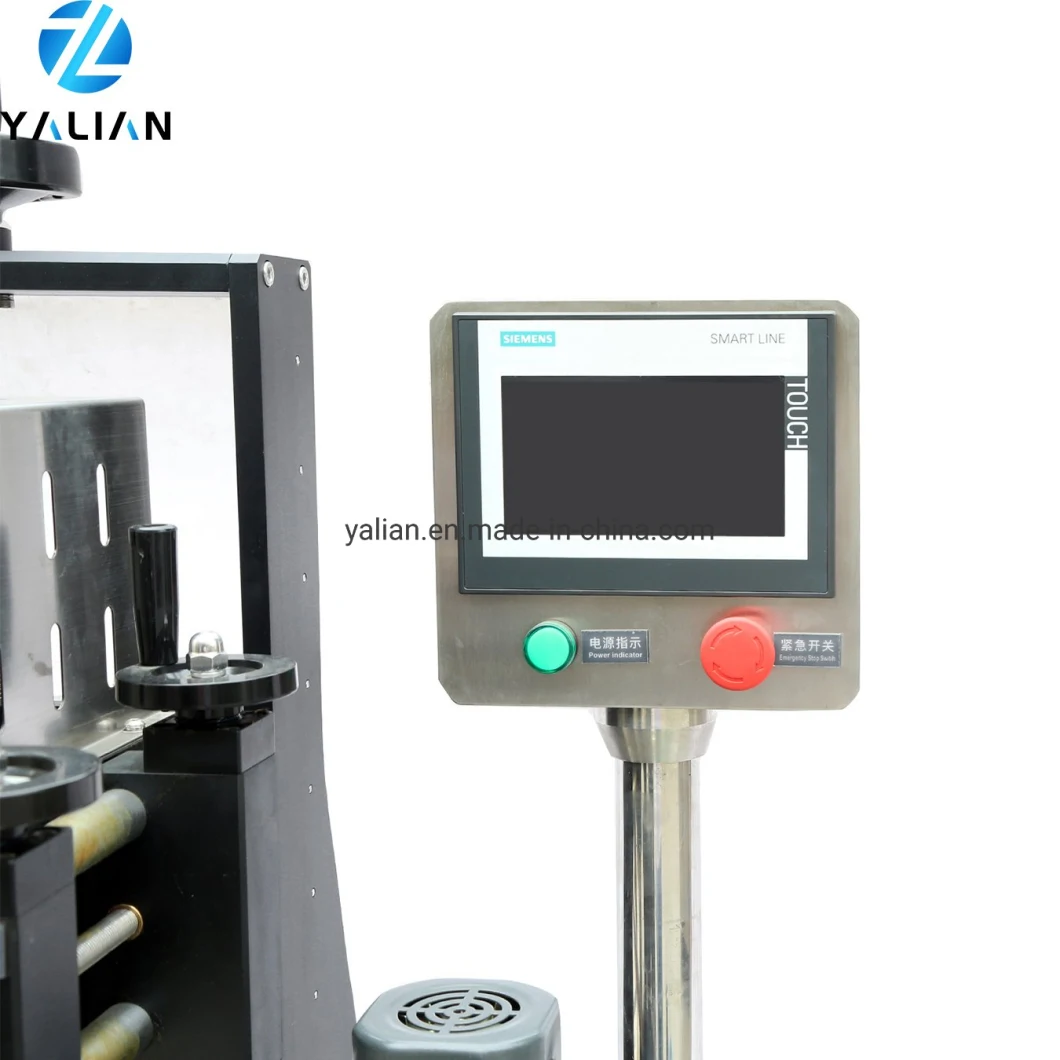 Controller of capping machine:
The Siemens PLC control panel , more stable and easy .
The capping height and width can be adjust .:
The clamping belt is for fix the bottles,if your bottle is smaller, we will recommend another model to you.

There are two models of automatic capping machine ,we will recommend suitable models to you according to your bottles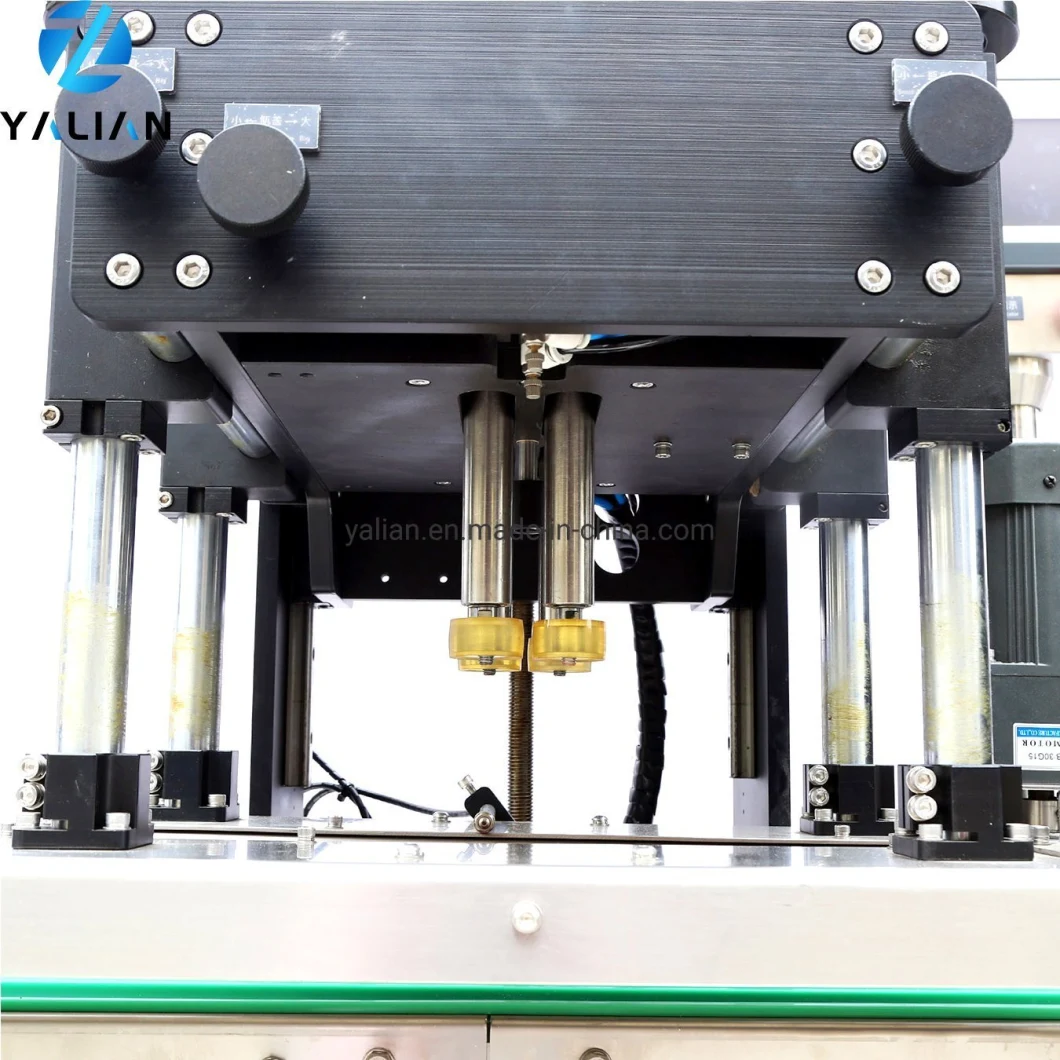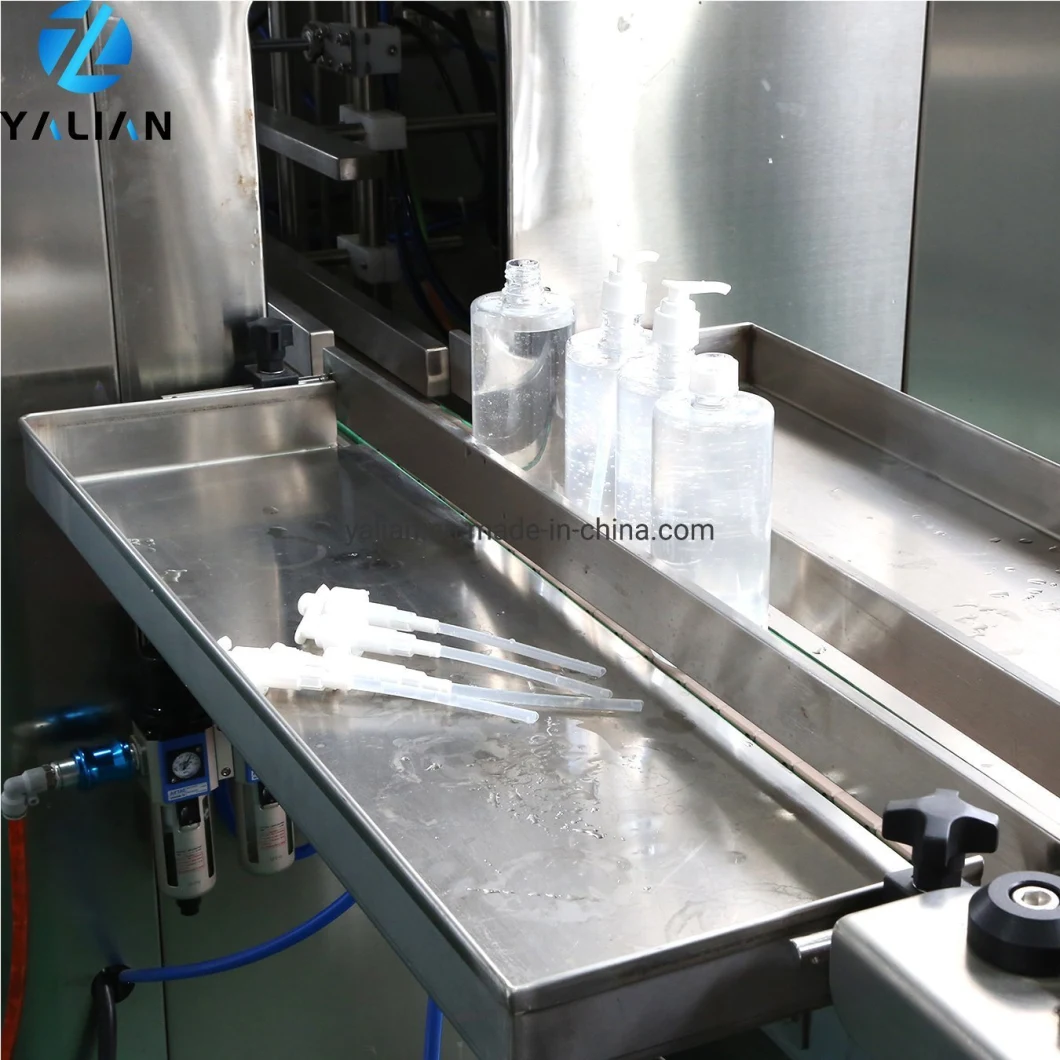 Cap feeding table
It is easy for people to operational put cap on bottles
Semi-automatic capping machine


Products Description
This desktop capping machine is controlled by air compressor, pneumatic capping can be controlled by foot pedal manually.This machine can be used for small essential oil bottles ,also can be used for duck pump caps.The rollers is colloidal silica,so it can be changed.This machines also provide some tools freely.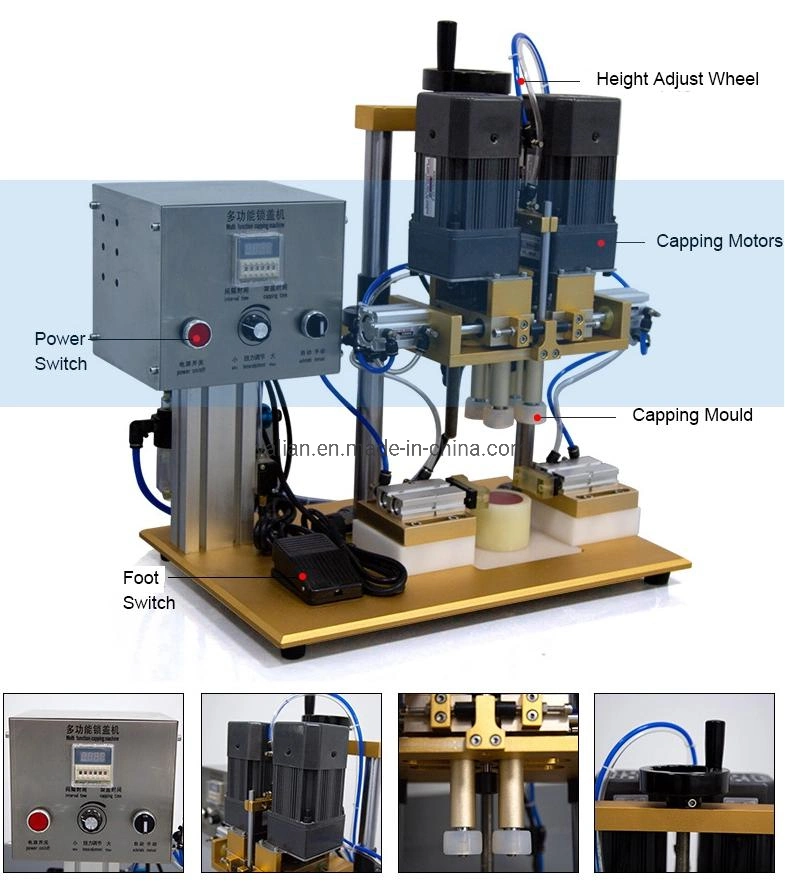 Product Name

Semi Automatic Capping Machine

Working Air Pressure

0.2-0.4MPA

Fit Bottles

H(20-1000mm) Customizable

Diameter(40-100mm)Customizable

Capicity

40-60bottles/Min

Weight

31Kg

Power Voltage

220V/110V

Working Method

Automatic/Manual
Product Feature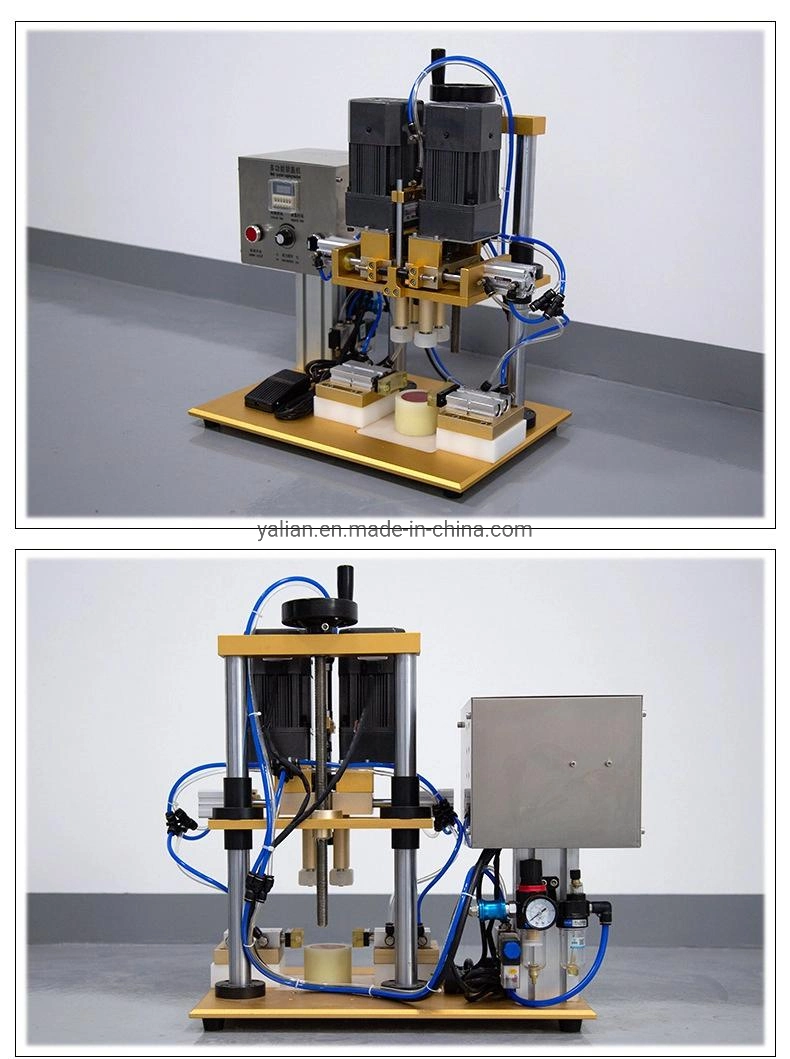 1/ Micro-computer control, digital display.
2/ Electrically controlled movement, positioning device, easy operation.
3/ Suitable for various locking caps with different shapes and specifications.
4/ The capping speed and tightness can be adjusted for different caps.
5/Applicable to the capping of cosmetic, medical, chemical, drinks and many kinds of bottle caps, etc.

Packaging & Shipping
1. Package: PE film cover inside and then plywood case.
2. Shipping by Express, Air or Sea based on customers' requirements and lowest cost solution.