Woodworking edge banding machine
For the growing cabinet or production shop looking to upgrade its current edge banding machine capabilities, this automatic edge banding machine is the stuff dreams are made of. Designed to handle the rigors of fast-paced production, it's flexible enough to handle a wide range of banding material (ABS, PVC, laminates, wood tape, and wood strips) from 0.4-3.0 mm thick on panels ranging anywhere from 10-60 mm thick.
This machine uses touch Screen and PLC control system, which improves the machine stability, and also makes it easy to operate.
Product Show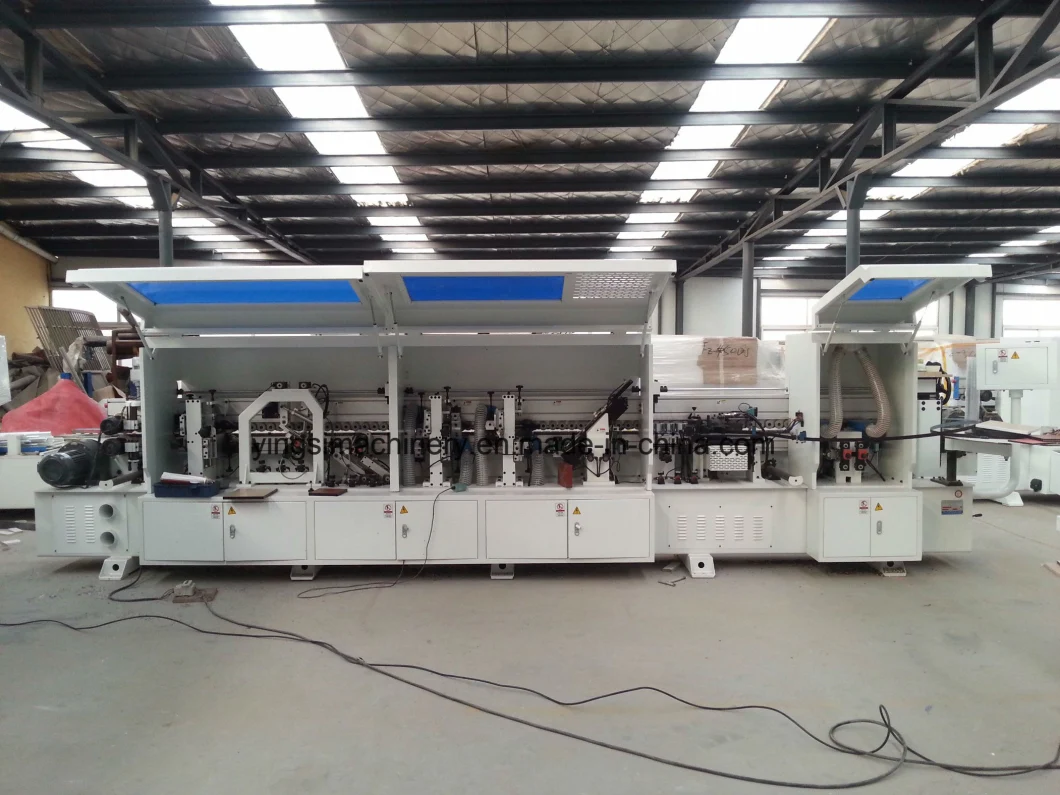 Functions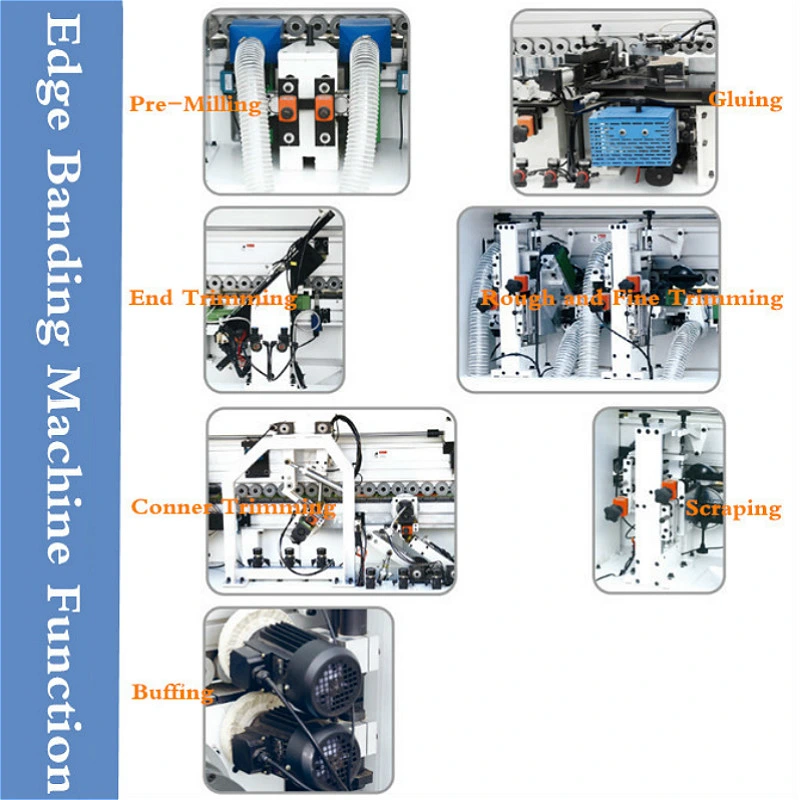 Per-milling---Trim equipment with double trim blades works on the waved effect that is caused by precise saw.

Gluing---Glue mechanism adopts a special structure to gelatinize the plated and coat materials uniformly, which ensures a more solid conglutination.

End trimming---End trimming mechanism through a precise guide track movement, adopts automatic tracking and high frequency motor fast cutting structure to ensure the cutting surface smoothly.

Rough and Fine Trimming---Rough/Fine trimming mechanism is used for repairing the excess edge materials, adopting automatic tracking and high frequency motor fast cutting structure to ensure the trimming plates smoothly.

Conner trimming---Profiling unit is to make board end more smooth and aesthetic.

Scraping---Scraping unit works for a perfect finishing of the applied edge.

Buffing--- Buffing device adopt the board processed by cotton polishing wheel, by end-polishing to make a more smooth surface.
Technical Parameter
Feed

s

peed

12~20 m/min

Edge banding tape thickness

0.4~3 mm

Panel thickness

10~60 mm

Panel width

≥80 mm

Working air pressure

0.8 mpa

Motor power

15.6 kw

Voltage

380 V 50Hz 3Phase (Optional)

Weight

2800kg

Overall dimension

7100×1100×1600mm
Packing and Delivery
Package: Plywood case
Paking Size: 7100×1100×1600mm
Shipment: Within 10 days after receiving paid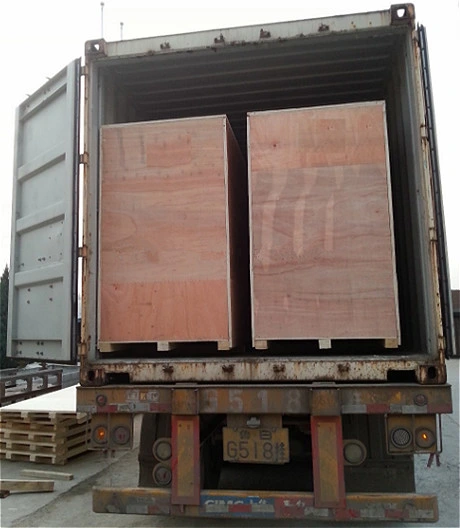 Our Company
Our company located in beautiful seashore city Qingdao, it is the leading manufacturer that makes mechanical equipment. The enterprise-like corporation taking hi-tech industry as direction, the company has production woodworking machinery experience for more than 20 Years.

Company's research and development strength is rich, have more than 30 people's professional research and development teams, have full range of testing lines and pipelining, and four professional production lines for machinery manufacture. At the same time, our company has got ISO9001 international system certificate and CE security certificate.

As the domestic famous mechanical manufacturing company, our company passes the informazation to machine-building of tradition, intelligent transformation, finish upgrading of product in time, won the majority of customer support. We have kept the lasting competitiveness in the manufacturing field of mechanical equipment. We sell to all parts of China and export to Southeast Asian, Western Europe, North America, Russia, Africa etc more than 20 countries and regions.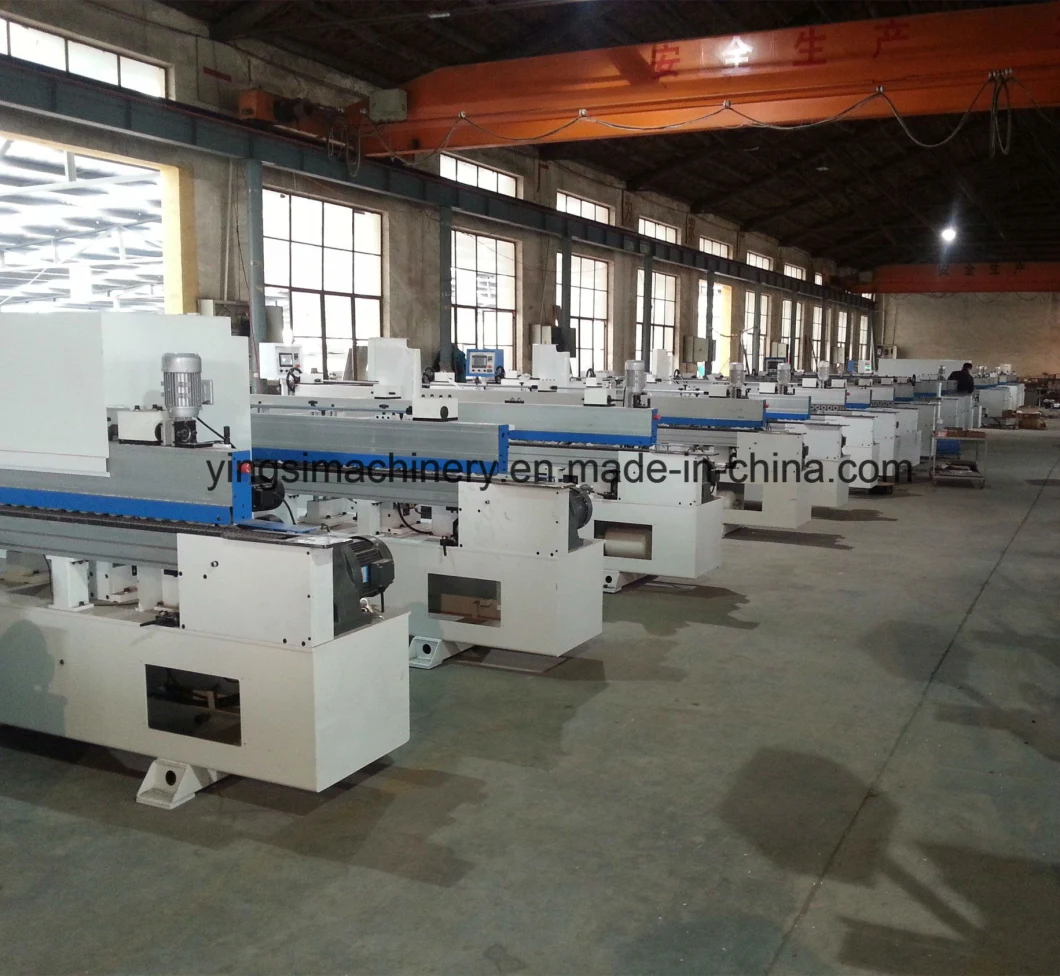 Contact Us